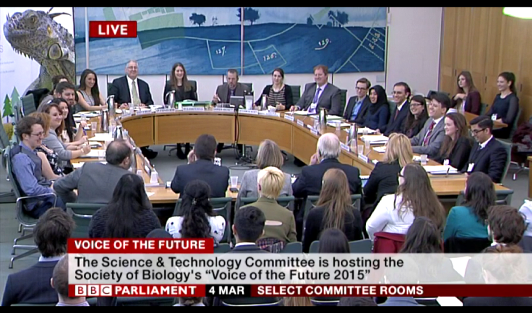 Voice of the Future, organised by the Royal Society of Biology, offers a unique opportunity for young scientists to ask MPs about the science policy issues that matter to them. This event mimics the format of a real Select Committee, except this time the roles are reversed. Committee seats will be occupied by young scientists, whilst MPs will sit in the witness seats ready to answer your questions. We invite RSB members, aged between 18 and 35, to email [email protected] with science policy questions for MPs by Friday 17th February.
Other Royal Society of Biology Events & News:
Are you travelling abroad to carry out fieldwork or attend a conference? Student affiliate, associate (AMRSB) and early career members (MRSB) can apply for one of the next ten £500 grants. Apply by 1st March 2017 and find full details online.

Persuasive Scientific Report Writing
26 January 2017 London − UK
Participants will learn the principles and processes for high quality communication in scientific thinking and writing, with plenty of opportunity to discuss and practice the skills learnt.

Laboratory Health and Safety Training
28 February 2017 Newcastle − UK
This course will include: Essentials of risk assessment (focusing in particular on COSHH Regulations), aspects of spills management in laboratories, accident investigation, and audits and safety inspections.